Remember: we are more than your real estate resource. At My Chicago REsource, we're not just your agents, but your Chicago resource and beyond! Our team is all about community, culture, and service. Kicking off mid-2018, we'll be sharing additions to our blog beyond real estate…And we're going to start with dessert (who said dessert can't come first anyway!) Our Listing Coordinator & Executive Assistant, Jen Mason, love summer–and not just because of the warm weather…
"I love summer and all of the delicious foods of the season. As a baker, this time of year allows me to experiment and let summer influence my recipes through the seasonal produce available, bringing a welcomed "taste of summer" to my dishes. My favorite activity is trying to combine a savory element in my desserts or trying to put a spin on a classic, and in summer, my go-to choices are fruits and berries.
"I created this Blackberry Sage Cobbler recipe a few years ago when working at a pie shop in Logan Square. I wanted to elevate the blackberries earthiness while combining the warmth of the sage. I ended up with a very versatile filing, shared below. It can be used in a pie, as a jam, whatever you want! Let your creative juices flow!"
Insider Tip: "I highly recommend using fresh, local blackberries to get the best flavor. Just try not to eat them all before getting them into your recipe. Or if you're like me, I always have to buy a few extra to snack on."
Blackberry Sage Cobbler
Ingredients for Filling:
– 8 cup of blackberries divided
– 1 Tbsp fresh lemon Juice
– 1 Tbsp molasses
– 1/2 cup of cornstarch
– 1/2 tsp black pepper
– 1 Tbsp + 1 tsp rubbed sage
– 1/4 tsp kosher salt
– 1 cup sugar (more if you like it sweeter)
Ingredients for Biscuit Topping:
– 2.5 cups of flour
– 1 3/4 Tbsp of baking powder
– 2 teaspoons kosher salt
– 3 Tbsp of sugar
– 1 3/4 cups of sour cream
– 2-4 Tbsp of melted butter
*Preheat oven to 400 F.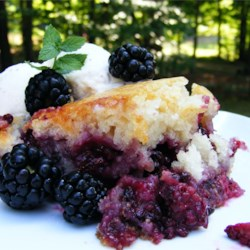 Method for filling: Combine 4 cups of the blackberries, lemon juice, and molasses in a large pot. Bring to a boil whisking frequently to break up the berries. Turn off heat and blend with an immersion blender or just leave a little chunky. In a separate bowl, whisk together your dry ingredients and whisk into your blended berries. Return to heat, stirring constantly, until very thick and no longer tastes starchy. Transfer to a bowl, cool slightly and fold in your remaining fresh berries.
Method for Biscuit Topping: Combine the dry ingredients then add the sour cream. Mix well, but be careful not to over mix. There will be some dry spots, which is why we have the melted butter. Add just enough of the butter to bring it all together.

To Bake: I prefer a cast iron, however, you can use any baking dish you have. Butter whatever dish you're using because butter is delicious and it seeps into the filing. Mmmmmm. Pour filling into your preferred baking dish but do not to fill to the top. It should be about a 1/2″ from the top. If you have leftover filling, you know have jam for your toast in the morning or add it to some oatmeal. Take your biscuit mix and break into 1/2 dollar size chunks as you plop it on top of your mix. It doesn't need to cover all of it and who cares if your chunks are bigger or smaller. Embrace the rustic. I like to sprinkle the top with a little more sugar, but this is optional. Bake for 10 mins, then lower to 350 for another 15-20 mins. Your biscuits should be golden and your filling should be bubbling. If your biscuits are getting too golden, turn the oven down to 325 until your filling is nice and bubbly.
I like to serve this dish with ice cream, creme fraiche, or vanilla anglaise.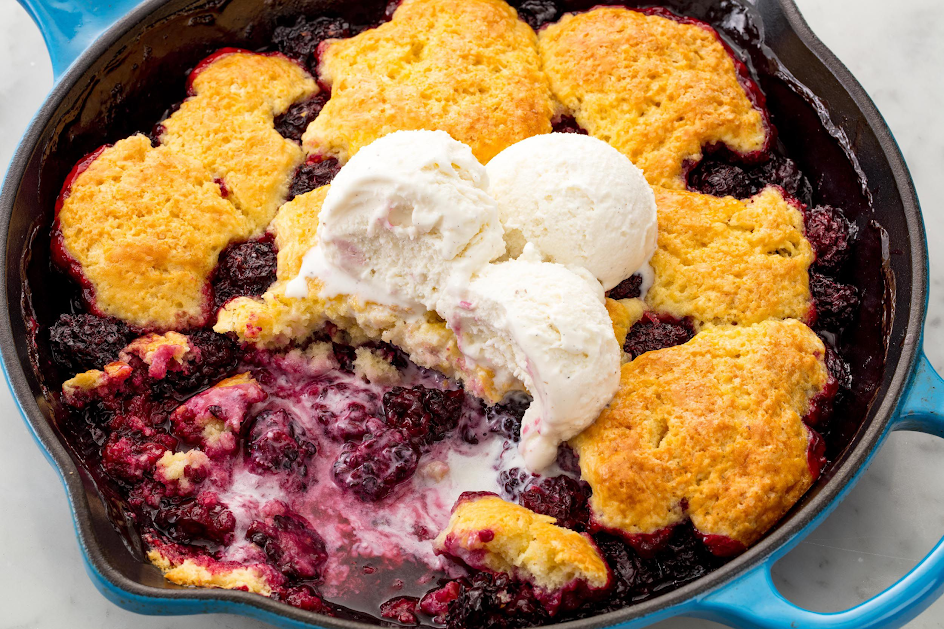 image: Ethan Calabrese